Our dictation packs are under renovation! The renovation process has begun with a new addition: DICTATION DONE RIGHT for BEGINNERS. It has all the great features of the other dictation packages: the Dictation Worksheets with excerpts from books your students have read, Punctuation Practice sheets for your students to edit and Punctuation Rules to help them understand the HOW, WHY and WHEN of capitalization and punctuation. Yet each of these parts have been modified for easier use (and more learning!) by young students.
On the new DICTATION WORKSHEET, your students will (1) highlight the punctuation in one color and capital letters in another. Then they will (2) practice spelling words from the passage. Finally, your students will (3) give the PUNCTUATION/CAPITALIZATION RULE number, or reason, for seven examples from the passage.
If there are spelling words that are particularly difficult for your students, or punctuation rules that they need to review, they can use the WORDS to PRACTICE bonus tri-fold to record the troublesome words and rules.
A punctuation guide has been added to this BEGINNERS EDITION of the PUNCTUATION PRACTICE sheet. Your students can check-off the punctuation as they edit the passage. HOW your students edit is up to you. I like my kids to double underline capital letters, circle misspelled words and then add the punctuation–all with a colored flair pen.
I do have my students check their work by comparing the passage on the DICTATION WORKSHEET with the one they just edited. Any corrections that need to be made should be done with a different colored Flair pen.
After this focused preparation, your students are ready to write! I record the passages on Garage Band–pausing between phrases and re-reading the passage with lengthy pauses for sentences and shorter pauses for commas/semi-colons. My kids then listen to their specific passage when it is their turn at the computer. You can also read it aloud as they write–just do your best not to give away the punctuation :).
Sheets for writing dictation are included in the BEGINNER'S EDITION. They include punctuation guides similar to those on the PUNCTUATION PRACTICE sheets. There are also weekly headers and punctuation guides for notebooks in this set.
Your students will interact with a lot of capitalization and punctuation rules as they complete the weekly passages (snapshot of the rules below). I am certain you (and your students/parents) will find the PUNCTUATION RULE STRIPS helpful for all of their writing exercises this year, not just dictation.
DICTATION DONE RIGHT for BEGINNERS contains excerpts from many of the books seen in the photo below (Sonlight Core D).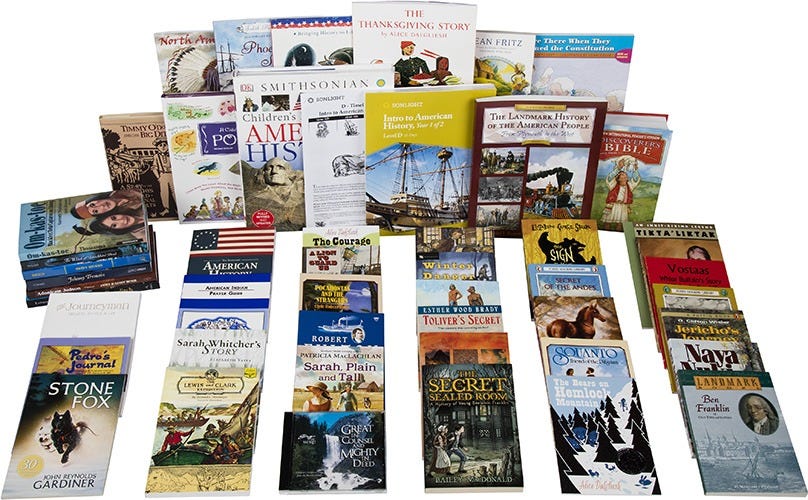 Get your copy while it is half off!