Our Sonlight Core H year was filled with great books, but "God's Smuggler" was the highlight for me. It is one of those books that, if you are a believer, will move you to a deeper relationship with Christ. Brother Andrew is a present day Paul, with a faith and prayer life that harkens back to George Mueller.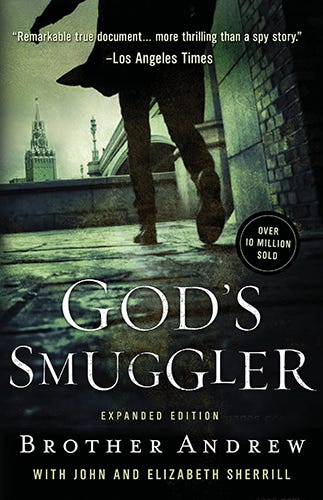 He could have written a whole book about his childhood, a boy growing up in Holland during the German occupation in the 1940s. His antics will endear him to your children's hearts (especially if you have boys, like I do).  And his love for his older brother Bas will touch your sweet mommy-heart.
But, it is his walk with the Lord, his calling and desire to glorify God that is especially awesome.  Brother Andrew truly learned to live in tune with the Holy Spirit.  That is something that eludes a lot of us here in America where we want for so little and have so much.  He also learned to be a servant of the King.  In becoming His servant, he had to be subject to Him. But first he had to truly know and trust Him. What was He like?  In what ways could he trust Him?  In the same way he trusted a set of impersonal laws? Or could he trust Him as a living leader, as a very present commander in battle? That question is central for all of us.  Is Christ a King in name only to you?  Or is He a Person–does He communicate to you, care for you, love you and lead you?
And so began Brother Andrew's journey on the Royal Way–the path of God providing for him.  Providing in a kingly manner, not some groveling way. This book is a great  read and a wonderful call to young missionaries' hearts.